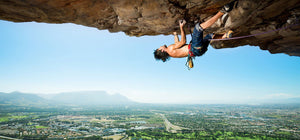 EXPLORE UNKNOW
CHALLENGE YOURSELF
DISCOVER THE WORLD
Customer Feedback
Great crampons
These crampons were great! We bought them for our trip to Rocky Mountain National park in June and they were a life saver. We would not have made it to the ends of the trails we chose to do without the crampons. Easy to put on, fit perfectly per the size chart and made our trip so much easier!
Hand ascenders with good grip
I bought these to help me haul myself up my ropes as I have gained some extra weight, I was not expecting the best quality for this price but they actually work rather well for budget priced hand ascenders, they grip my 12mm ropes really well and they hold my 16st I have used them constantly over the last few days and have not slipped or done anything worrying, they slide up my ropes really well and they lock onto the ropes really quickly when under tension seem to be a good pair of ascenders but time will tell, otherwise recommended.
Ultralight! Mummy sleeping bags
This bag is exactly as described. So very light! On my scale, in the stuff sack it weighed exactly 1.025 lbs. Impressive. This will be used specifically on my backpacking and canoe circuit trips. I am taking it out to test this weekend. Night time forecasted to be 0°C in Coastal Western Canada. Let's see how it does.
Brand Concept
Newdoar was born for rock climbers, opening a door to passion and challenge for them. We focus on rock climbing equipment design, production  and use experience, and are committed to creating safe, comfortable and ergonomic products.
From cliffs to mountains, from snow to rapids, newdoar's equipment provides the safest protection and allows you to challenge yourself and explore  the unknown freely and heartily. We will maintain the brand spirit of focus, challenge and innovation, and continue to develop better products.  Let us enjoy the journey of discovering the world together.
Subscribe to our newsletter
Promotions, new products and sales. Directly to your inbox.